Updated by Jordan Millar
Here we have put together a list of commonly asked questions or issues that you might run into from time to time. Use the Table of Contents on the right hand side to find the issue that you have and jump to the solution.
My Pairing Code has expired
Pairing Codes are only needed once but you have to use them within 7 days of when they were issued. Contact your ChekRite Administrator to get them to issue you a new one.
ChekRite is crashing
If the ChekRite App suddenly quits out and returns to the home screen of your device, that is called a crash. We try to make sure this doesn't happen but nobody is perfect. If this is happening to you the best thing to do is to reach out to us either via email (help@chekrite.com), one of the contact numbers on our website or even the contact form to the top right of this page.
It's very likely we will ask you to send us the logs of your device so that we can work out what went wrong and fix it so it doesn't happen again. Sending the logs is super simple:
Open the Settings app on your iPhone or iPad
Scroll down until you find ChekRite and tap on that
Find the setting called Send Logs on Next Launch and slide the switch to the right of that.
Exit Settings and tap on the ChekRite logo again
This will start to send the logs to us so we can see what you were doing when things went wrong. Depending on what went wrong we may be able to fix it from our end or in the worst case, we will get you to reinstall the app again by deleting it and downloading it again from the App Store. You will need a new Pairing Code if you do this.
The camera or microphone is not working
This may be because you have not granted permissions to ChekRite to be able to access the camera or microphone. To remedy this:
Open the Settings app on your device
Scroll down to ChekRite
Ensure the microphone and camera are enabled for ChekRite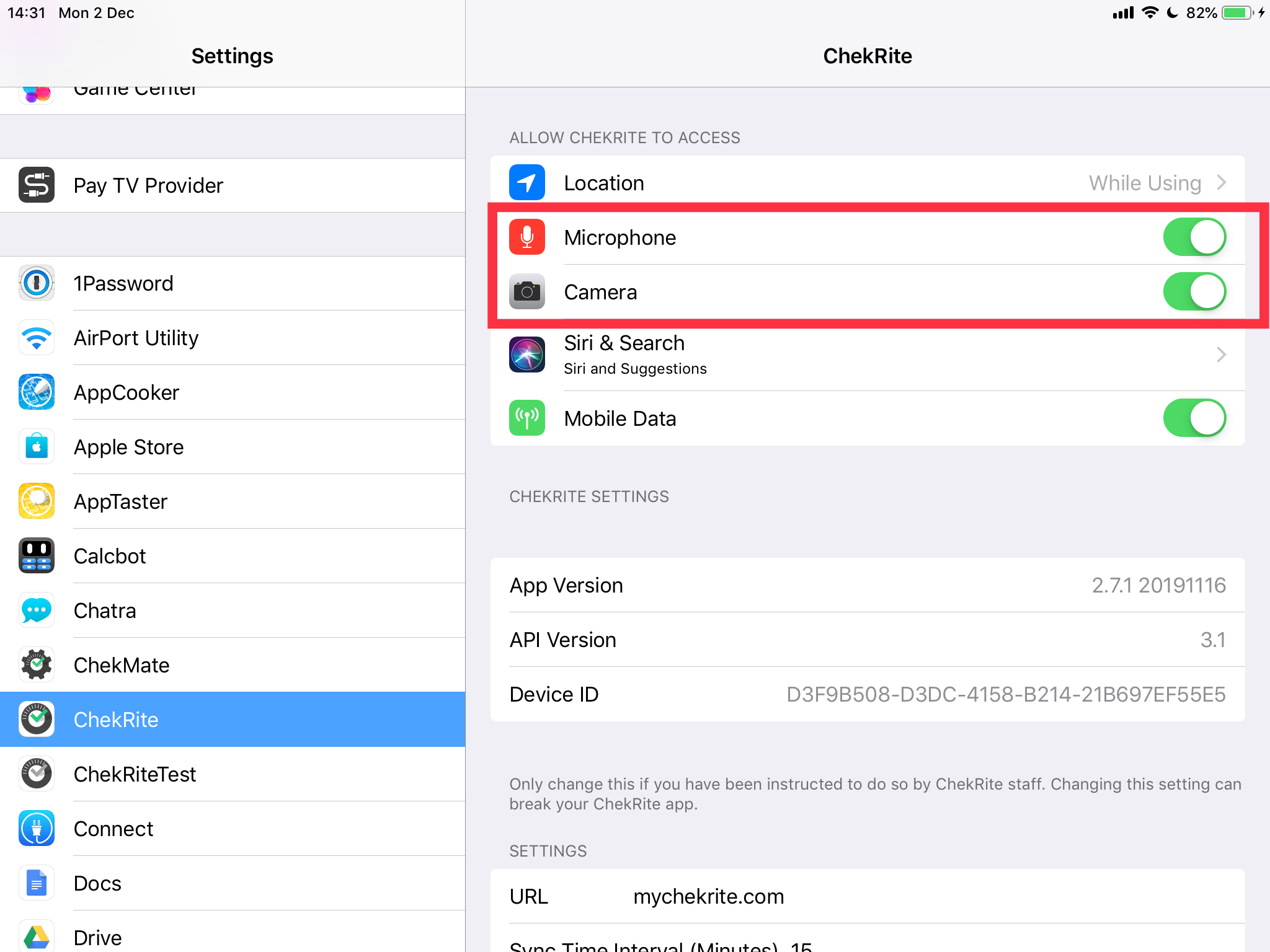 How much data does ChekRite use?
ChekRite does a lot to reduce the amount of data that it consumes. When you take photos they are reduced down to a fraction of their full resolution. We also compress and encrypt all data before sending it to and from the device. If ChekRite is used daily for inspections in a typical environment it will use around 20-30Mb per month of data.
Because ChekRite operates offline you can always turn off your data and use ChekRite and just sync it again when you are back on wifi.
My device won't allow the camera to rotate
Now you're stuck on the screen requesting you to rotate your device?
Most likely your device has been locked to a portrait orientation and the ChekRite App is wanting you to use a landscape orientation. To remedy:
Swipe your screen to display the Control Centre on your device.
Tap on the Orientation Lock button to toggle it off.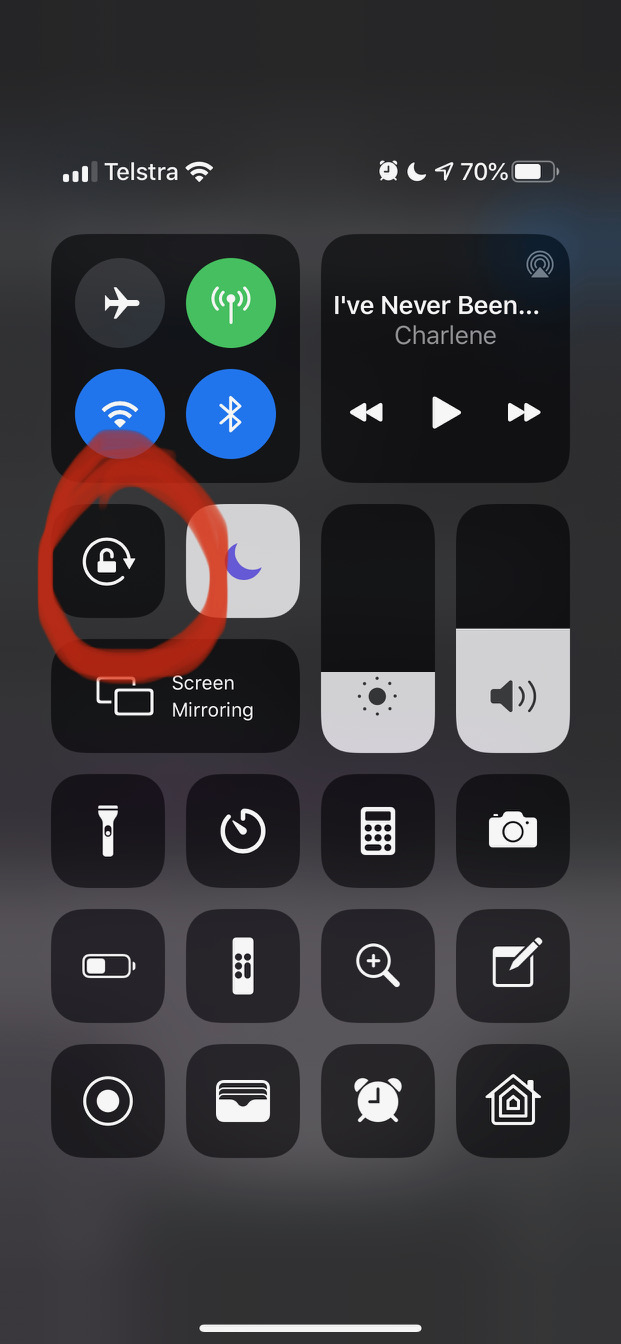 Return to your ChekRite App and you should be able to rotate the device to take any images.
Resetting a Device
Sometimes it might be necessary to reset a device and wipe all it's content. There are two ways you can do this: Remote Reset and Local Reset.
Remote Reset
To remotely reset the device simply delete the device in the Devices section of the portal. The next time the device tries to sync, it will see that it is no longer registered with the portal and immediately wipe all the local ChekRite data. It will then return to the Set-up Screen so that it can be paired again.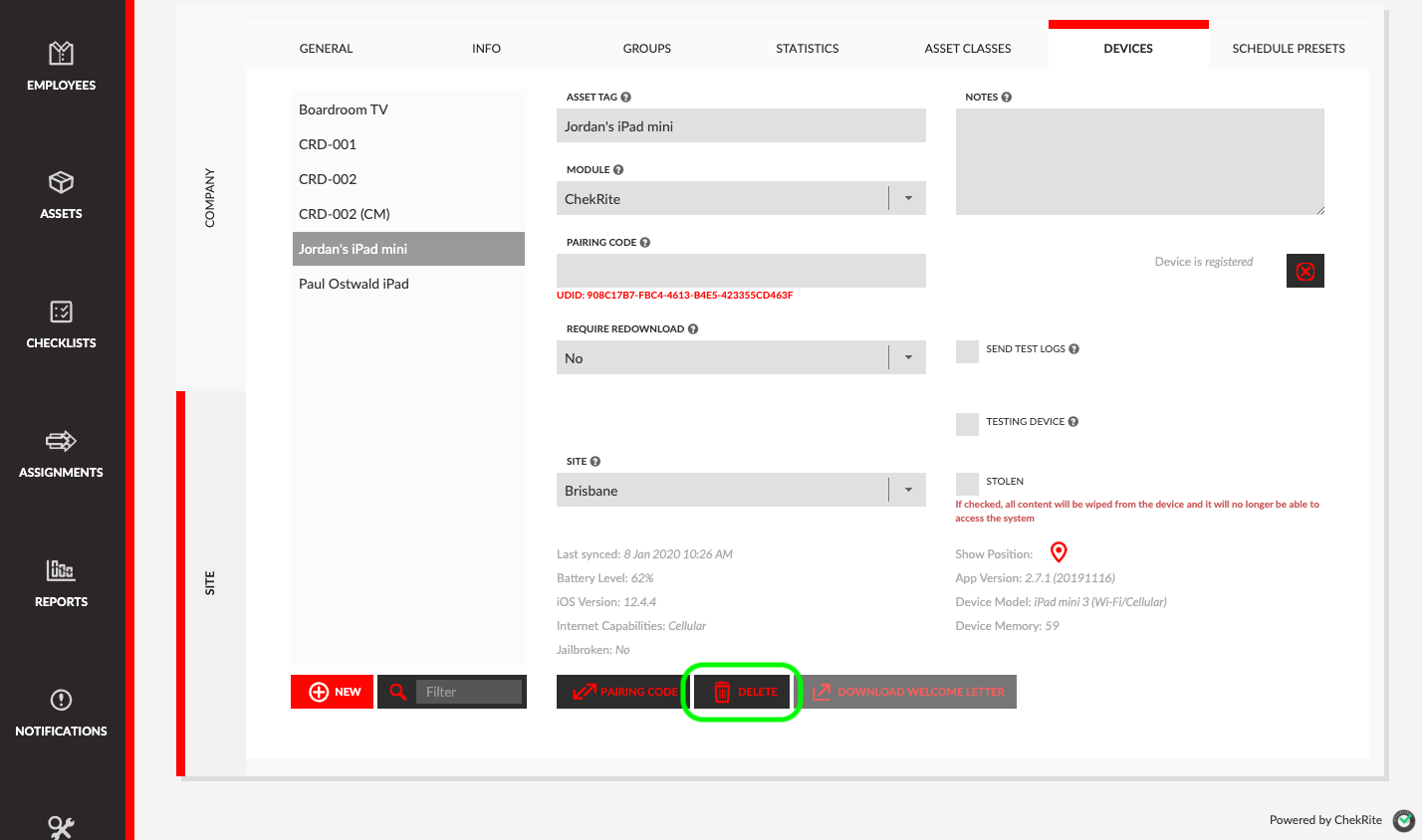 Local Reset
To reset a device on the device itself, open the Settings App. Then scroll down to the ChekRite section and slide across the switch to Reset Database on Next Launch.
When the app is launched again, it will wipe the local ChekRite data and return to the Set-Up Screen so that the device can be paired again.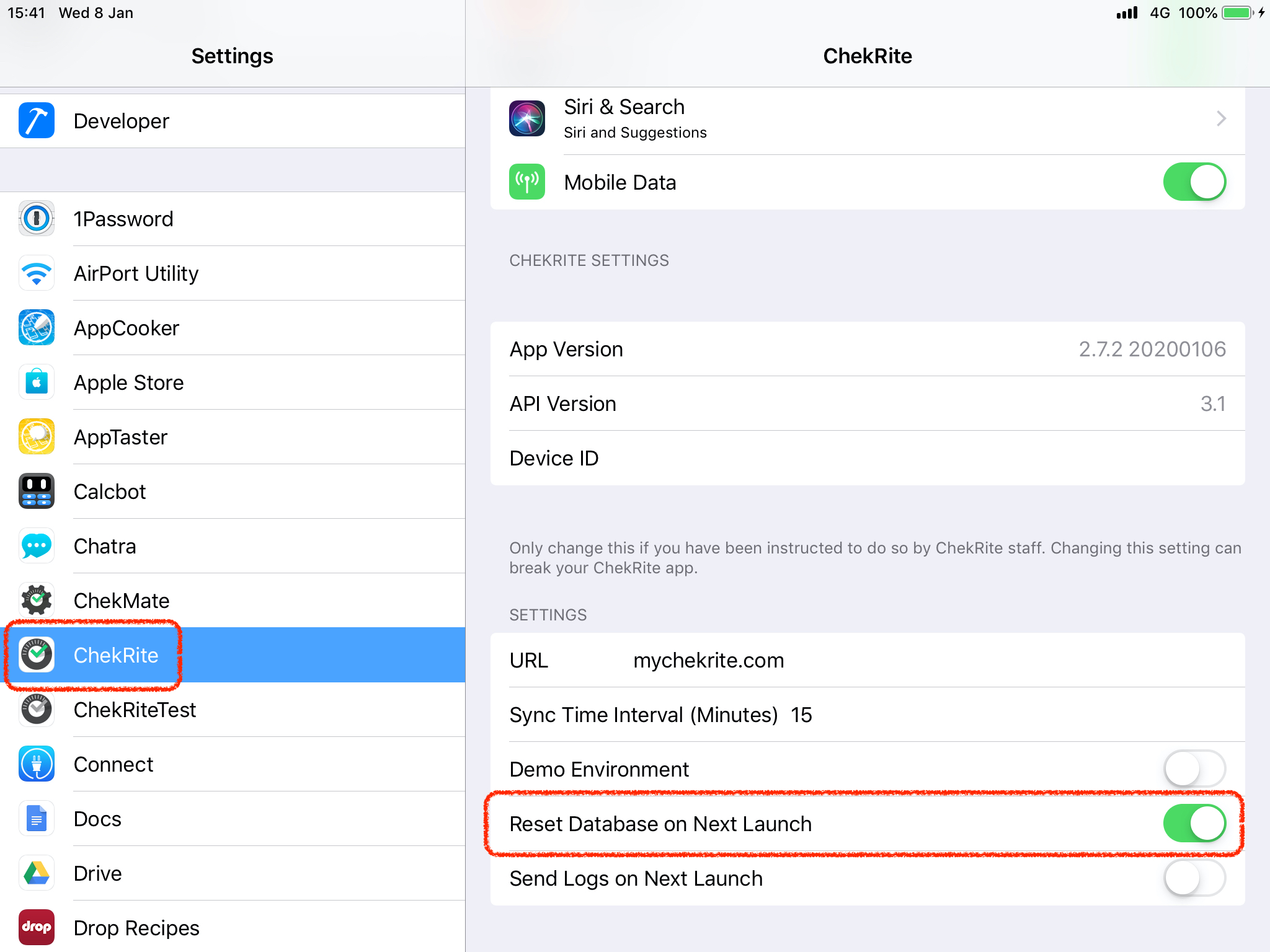 Of course, you can locally reset the device by deleting the ChekRite app and downloading it again from the App Store!